Congratulations your celebrating a major milestone in your teen's life, sweet 16!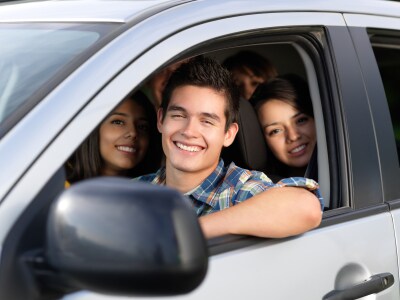 At this age they probably are just starting or have completed driver's education. Some may even be getting ready for their road test.  This can be a very stressful time for every one, all parents worry the first time their teen takes the car out by themselves. Instead of standing in the front door phone in hand waiting to see those headlights pull back into the driveway, try easing the stress with some pre-planning.   Here are some great ways to prepare your teen for driving on their own:  


Set a good example
- When driving with your teen do not break the rules. Never create a "do as I say, not as I do" atmosphere for your teen when it comes to driving.  Obeying the traffic lights, making a complete stop at that stop sign and staying off your cell phone are just a few ways you can set a good example. They are watching and paying attention, they will notice if you do these things.  
Practice doesn't have to make perfect, but it helps-  
Take every opportunity you can to practice driving with your teen. Performing the same steps over and over will help them remember and eventually it will become "just like riding a bike".  They may hate to parallel park, but after a few times they will be doing it without a second thought.  This can also help to instill confidence.  Also, ask their driver's ed instructor to let you know what specifics they are working on, then repeat those at home.  


Be practical and prepared-
  Accidents happen.  There is always a chance your teen driver may have an accident, whether it is just a minor fender bender or not.  Prepare them for this by talking with your teen about what to do if the event occurs. Keep a blanket in the trunk along with some other basics like a bottle of water and a booster pack. Always make sure they have a jack and a spare tire in good, usable condition. You may also want to consider a road side assistance plan.
Author Note: Melissa is the owner/editor of the popular product reviews blog,
Product Review Cafe
.